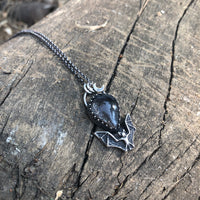 Handcrafted One of a Kind
sterling silver adornments with an old-world feel. Inspired by the beauty and wonder of Mother Earth, the Occult, Ancient Cultures, Alchemy, and Witchcraft featuring natural gemstones and crystals.
Each piece is created using traditional metalsmith techniques. All designs are hand sawn, soldered, sanded, and polished with the greatest attention to detail, making each piece a unique work of art. We believe in quality over quantity and want to create future heirlooms that are meant to be worn and loved.